Driving Licence Renewal Online
In India, a driver's licence is a legal need for driving a vehicle. When we obtain a driver's licence, it is also subject to expiration. We don't always care whether it's about to expire. However, if an accident of some sort occurs in such a circumstance, it can result in serious consequences. If your driver's license expires, you can renew it online a year ahead of time or a year later. Let's take a look at how to renew your driver's license online.
To begin the driving licence renewal online, open your browser and go to https://parivahan.gov.in. You will now be directed to the Parivahan.gov.in website, where you can choose from a variety of online services. You can also check sarath
i.parivahan.gov.in to get information on driving licences. After entering the webpage, Select Online Services, then Driving licence related services. It will be redirected to https://sarathi.parivahan.gov.in website. First, choose your state, then you will get the available options and choose to Apply for Driver's License Renewal.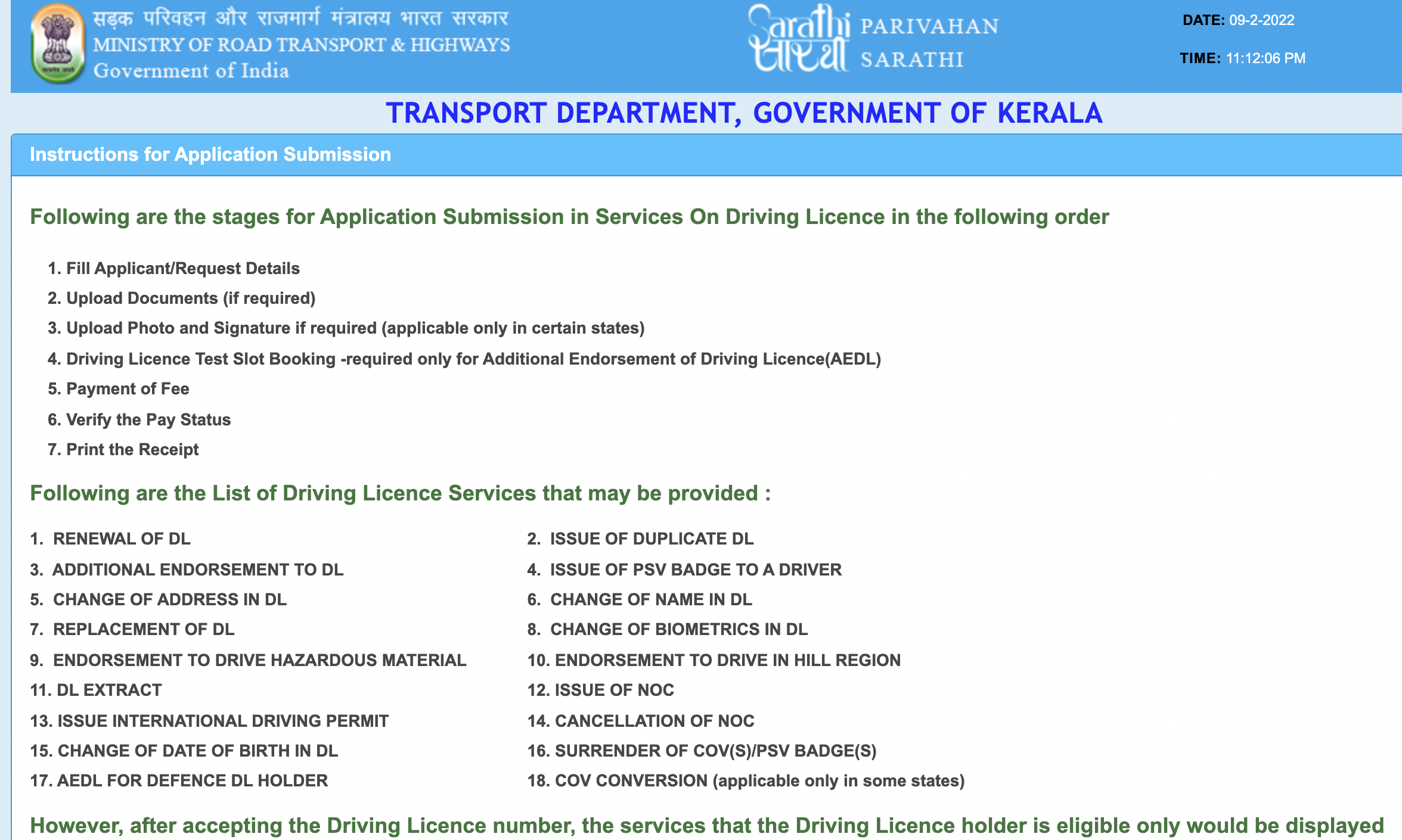 A list of the documents you'll need to upload can be listed here
Form 1-A is required for those above the age of 40. For this, you'll need a certificate from a nearby medical professional. After signing and finishing the documents, you must submit them with the upload. Click the continue button once you've completed all of these steps. Now you must provide both your driver's licence number and your birth date. When entering your driver's licence number, make sure to use the same format as on your driver's licence. Between the lines, symbols like the dot and the comma should not be used. Then click Get DL Details button.

Also Read: How to apply for Income Certificate online in Kerala
After validating your requests a response will show in your window.  If you get an error message, you can't go to the next steps. Otherwise, you can renew your driver's licence. In the next step, add your personal information and signature. Also, there is an option available to check If your existing driver's licence has expired. At the same time, you can see what kind of licence you're using now.
After entering your information, a confirm box will show, select yes. Select General, then State and RTO from the drop-down menus. To continue, click the Proceed button. Then, if all of the information you entered is correct, click Confirm. Select the service you want on the following page. Choose the present declaration and type it in. You can also check this box if you want to donate your organs. On the left side, type the captcha exactly as it appears. Submit the form by clicking the submit button.
You can now see all of the data you've entered. The Eye Certificate, Form 1, Driver's licence, and Medical Certificate must all be uploaded and submitted. You may now exit if you do not have the necessary documentation. Otherwise you can upload document, the uploaded photos, signature, and other documents. You can submit your application by entering your application number and date of birth and clicking the submit button. Then, for each document, pick and upload it. After that, you can make a payment using whatever method you like, such as Online Banking or UPI. The cost of renewing a driver's licence is Rs. 460, plus Rs. 45 for shipping. Driving licence renewal online process is very simple.